Given the chance to cook a meal for a gathering, would you stick to your traditional food/cooking/cuisine or cook different flavors from aroud the world for a change?I think its always a fun idea to cook different foods if you're comfortable with it and its more exciting than cooking silmilar stuff over and over again.The world has such amazing foods to offer so why settle for just one cuisine?Its so much fun to try different flavors and experiences right in your own kitchen!
I recently tried cooking Moroccan Chicken for the first time and it tasted amazing!The tangy lemon and olives combined with the warm cinnamon and cumin just makes it so aromatic.Instead of serving it with the traditional Couscous, I decided to use some Pita Bread and came with this amazing idea to serve the whole dish as an appetizer.Got a thumbs up from the hubs and my kids too.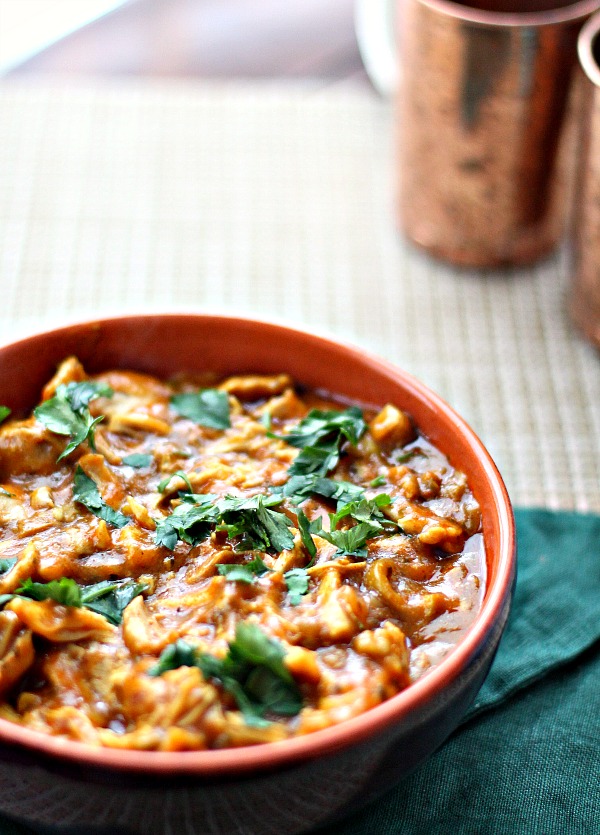 To make the process even easier,I made this in a slow cooker without any hassle.The flavors develop slowly adding so much depth.The chicken soaks up all the juices and becomes so moist and tender and all you have to do is to toast up the Pitas just before your guests arrive for it to be all crispy.Just spread some store bought Hummus and a dollop of the Chicken over each Pita bite and you're done.Wasn't that easy?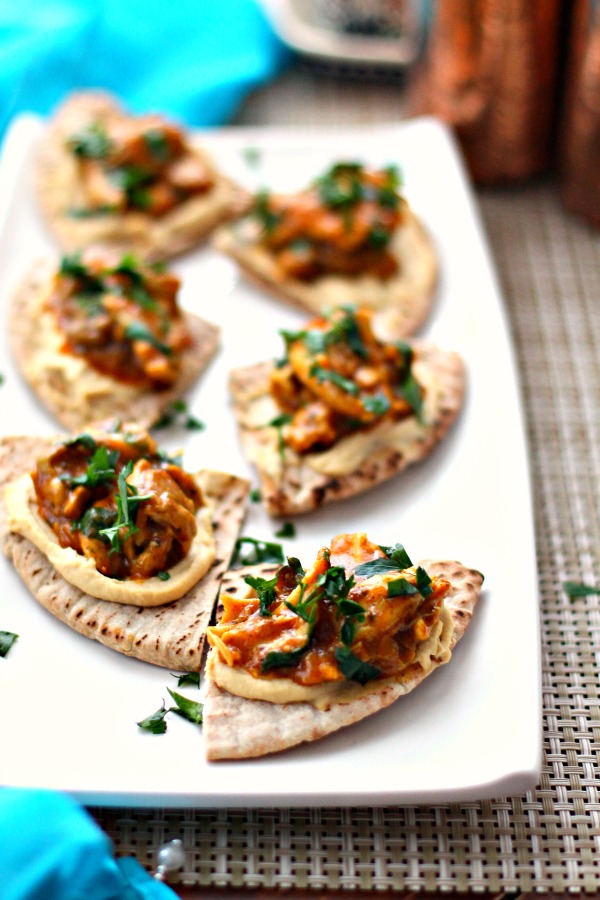 Ingredients
Boneless Chicken Thighs-1 lb
Onion-1 large sliced
Fresh Minced Ginger-1 tbsp
Fresh Minced Garlic-1 tbsp
Ground Cumin-2 tsp
Cinnamon-1 tsp
Paprika-1-2 tbsp
Chicken Stock-1 1/2 cups
Lemon Juice-2 tbsp
Green Olives-1/2 cup quartered
Salt-to taste
Oil-3 tbsp
Pita bread-5-6
Hummus
Fresh Parsley-for garnish
Instructions
In a skillet heat the oil and saute the onions along with some salt and pepper until golden.Add the ginger,garlic and cook for another minute.
Follow with the cumin and cinnamon.Mix well and cook for a few minutes.
In your slow cooker place the Chicken Thighs and pour the onion mixture all over.
Add 2 cups of chicken stock,lemon juice,olives,salt and pepper.
Cover and let it cook on low for about 6-7 hours.
Shred the chicken when done.
Pre-heat the oven to 350 degrees.
Slice the pitas into quarters and place on a baking sheet and toast until crispy for about 10 minutes.
Spread some hummus over and about a tbsp of the Moroccan chicken.Garnish with fresh parsley and serve hot!
You Might Also Like:
Make sure you're following The topslowcookers.com for the latest recipes!
Facebook | Pinterest