This slow cooker teriyaki chicken recipe is easy to make in your Crock-Pot. Plus the homemade teriyaki sauce is naturally sweetened, making it a chicken teriyaki recipe you can feel good about enjoying down to the last bite.
Hey guess what?  I made you a new recipe with your three favorite words in the title — slow cooker chicken.
That's right.  Without fail, requests for slow cooker recipes and chicken recipes seem to far outweigh all other topics in surveys and your emails.  So today I'm doing a two-for-one and also introducing a healthier new take on a classic — Slow Cooker Teriyaki Chicken!
This version includes all of the delicious sweet and savory teriyaki flavors you love.  But this easy homemade teriyaki sauce is naturally sweetened with honey instead of refined sugar.  And since your slow cooker is going to do most of the work for you, there is very minimal prep time required.
I mean, really, just look at that chicken drenched in that thick, sweet teriyaki sauce.  It's calling your name.
Here's how to make it happen.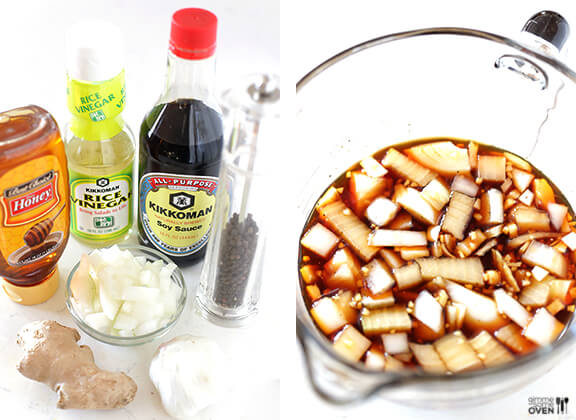 First we begin by making the teriyaki sauce base.  Simply whisk together the ingredients.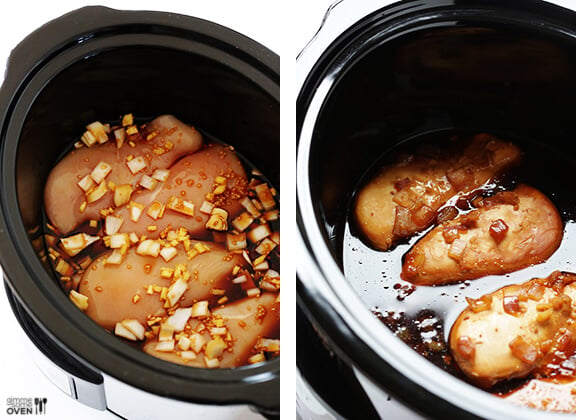 Then lay your chicken breasts out in a single layer in your slow cooker and pour the sauce over them.  Cover and cook on high for about 4-5 hours, or until the chicken basically falls apart when shredded with a fork.  Get ready, because your home is going to smell a-ma-zing.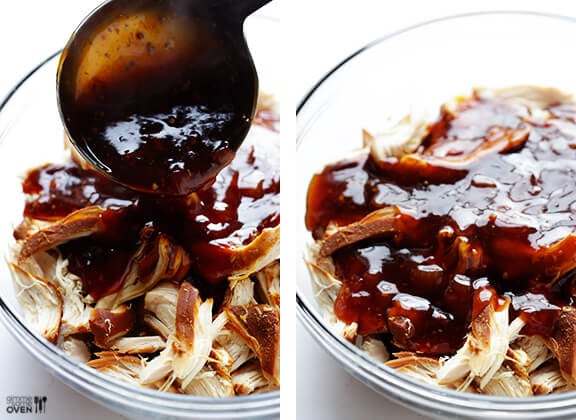 Once the chicken is cooked, remove it with a slotted spoon and shred it on a separate plate or in a bowl.
Then transfer the remaining teriyaki sauce to a small saucepan, and whisk a cornstarch slurry.  Bring it to a boil and let it thicken.  Then pour the sauce on top of your shredded chicken.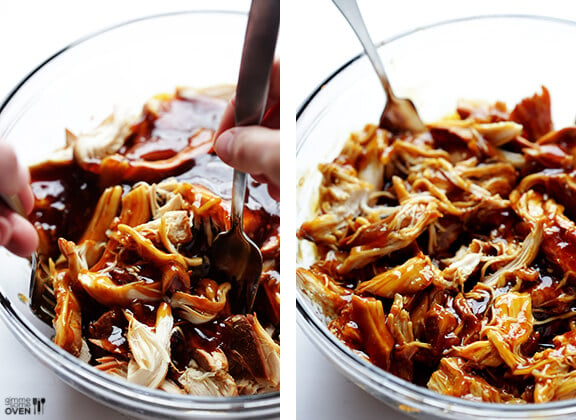 Gently toss to combine.  And then comes the hardest part — deciding how you're going to enjoy it!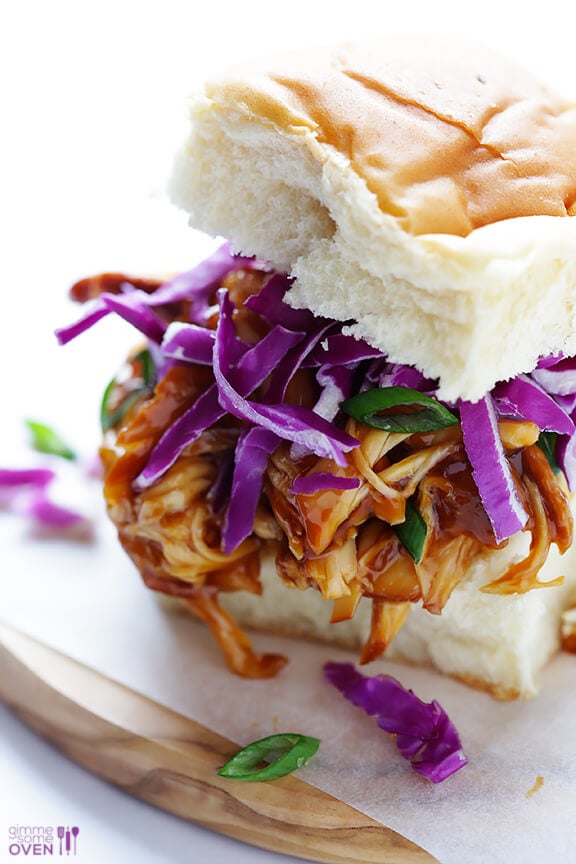 I actually enjoyed my first serving on a little teriyaki chicken slider.  So simple!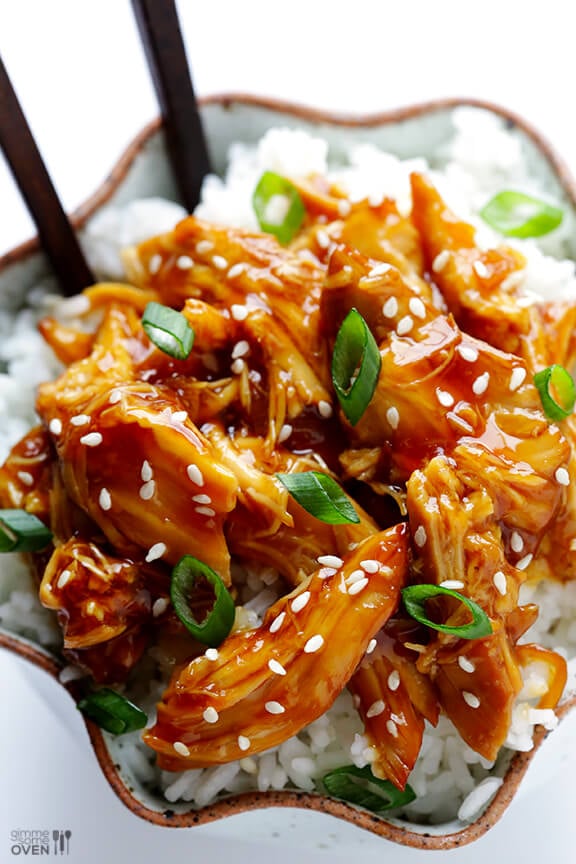 But of course, the classic way would be over rice.  Or quinoa.  Or even just on its own, with a side of veggies.  I'm pretty sure you can't go wrong any way you choose, especially with that heavenly homemade teriyaki sauce.  You're gonna love it!
SLOW COOKER TERIYAKI CHICKEN
This Slow Cooker Teriyaki Chicken recipe is simple to make, full of great flavor, and made with natural sweeteners.
INGREDIENTS:
2 lbs boneless, skinless chicken breasts
2 cloves garlic, minced
1/2 cup chopped white onion
1/2 cup honey
1/2 cup soy sauce (use low-sodium if desired)
1/4 cup rice wine vinegar
1 Tbsp. chopped fresh ginger
1/8 tsp. freshly ground black pepper
1/4 cup cold water
3 Tbsp. cornstarch
(optional toppings: sliced scallions and toasted sesame seeds)
DIRECTIONS:
Add the chicken breasts to the bottom of your slow cooker in a single layer.
In a separate bowl, whisk together the garlic, onion, honey, soy sauce, rice wine vinegar, ginger, and black pepper until combined. Pour the mixture on top of the chicken breasts. Cover slow cooker, and cook on high for 4-5 hours, or until the chicken is cooked through and shreds easily with a fork. Remove the chicken with a slotted spoon to a separate bowl and shred it using two forks. Transfer the remaining teriyaki sauce from the slow cooker to a medium saucepan.
Meanwhile in a separate bowl, whisk together the cold water and cornstarch until the cornstarch is dissolved and no longer lumpy. Pour the cornstarch slurry into the teriyaki sauce mixture, and whisk to combine. Bring the mixture to a boil over medium-high heat, and let it boil for about 1-2 minutes or until thickened. Remove from heat, and pour the sauce on top of the shredded chicken. Toss to combine.
Serve topped with scallions (green onions) and toasted sesame seeds if desired.
You Might Also Like:
Make sure you're following The topslowcookers.com for the latest recipes!
Facebook | Pinterest