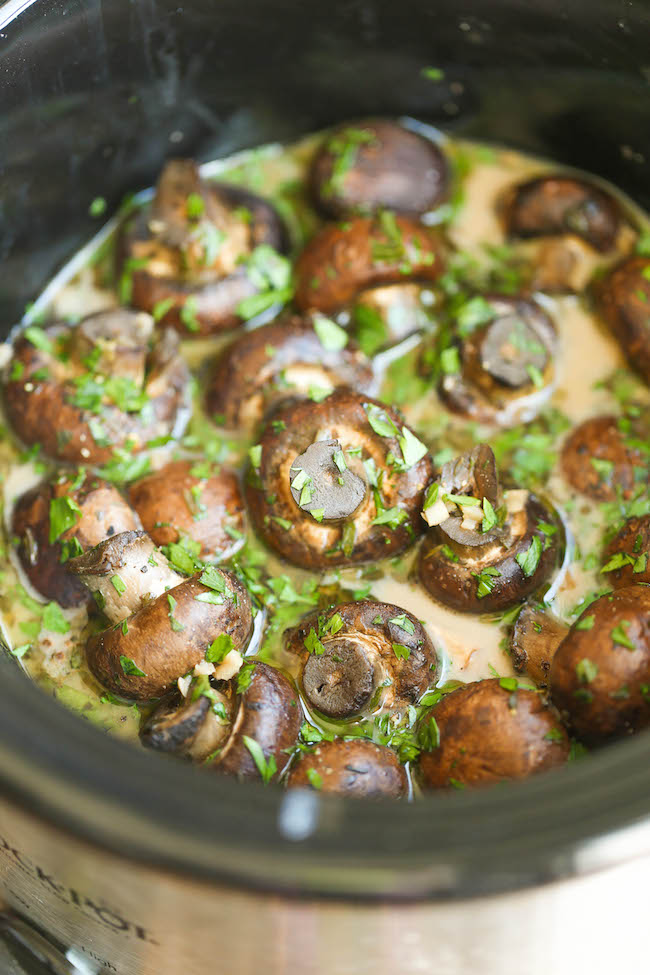 Prep Time : 5 minutes
Cook Time : 4 hours
Total Time : 4 hours, 5 minutes
Yield : 4 servings
INGREDIENTS
24 ounces cremini mushrooms
4 cloves garlic, minced
1/2 teaspoon dried basil
1/2 teaspoon dried oregano
1/4 teaspoon dried thyme
2 bay leaves
1 cup vegetable broth
Kosher salt and freshly ground black pepper, to taste
1/4 cup half and half*
2 tablespoons unsalted butter
2 tablespoons chopped fresh parsley leaves
INSTRUCTIONS
Place mushrooms, garlic, basil, oregano, thyme and bay leaves into a 3-qt slow cooker. Stir in vegetable broth; season with salt and pepper, to taste.
Cover and cook on low heat for 3-4 hours or high heat for 1-2 hours, or until browned and tender. Stir in half and half and butter during the last 15-20 minutes of cooking time.
Serve immediately, garnished with parsley, if desired.
NOTES
*Half and half is equal parts of whole milk and cream. For 1 cup half and half, you can substitute 3/4 cup whole milk + 1/4 cup heavy cream or 2/3 cup skim or low-fat milk + 1/3 cup heavy cream.
You Might Also Like:
Make sure you're following The topslowcookers.com for the latest recipes!
Facebook | Pinterest