I've made quite a few wings recipes in my day, mainly because Jason is pretty much obsessed with any kind of wings – hot, buffalo, asian-style. You name it.
I've also tried deep-frying and baking them, but I've never made wings in the slow cooker until I tried this. And boy was I in for a treat for the easiest, most effortless wings ever.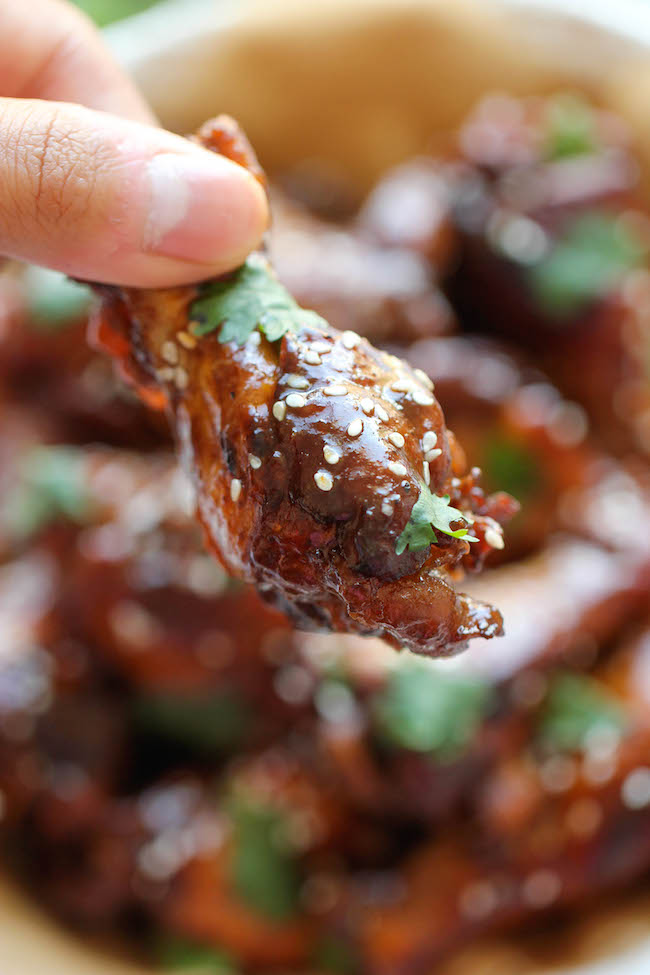 There's absolutely no hot oil, no deep frying, no dreading, nothing. Just throw everything into a slow cooker, press the high or low button and that's it. Really. It's just that easy.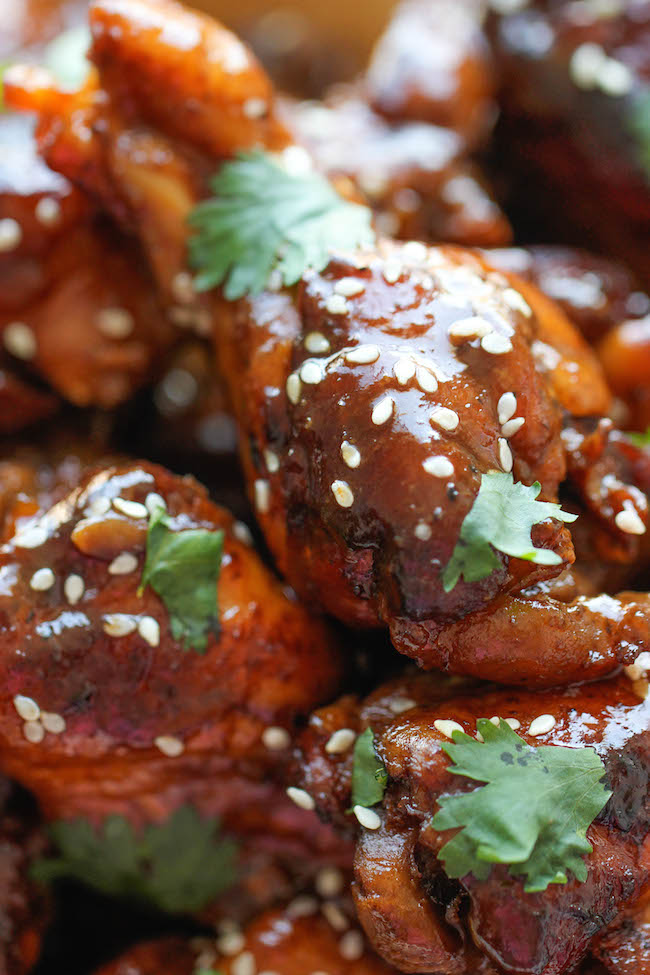 And the results are unbelievably amazing. These babies are cooked absolutely perfectly, soaked in all that flavor for hours on end. And the meat literally falls off the bone!
Prep Time : 10 minutes
Cook Time : 4 hours
Total Time : 3 hours, 10 minutes
Yield : 6 servings
INGREDIENTS
3 pounds chicken wings
2 tablespoons cornstarch
1 tablespoon sesame seeds
2 tablespoons chopped fresh cilantro leaves
FOR THE SAUCE
1/3 cup reduced sodium soy sauce
1/3 cup balsamic vinegar
1/3 cup brown sugar
1/4 cup honey
3 cloves garlic, minced
1 teaspoon Sriracha, or more, to taste
1 teaspoon ginger powder
1 teaspoon ground pepper
1/2 teaspoon onion powder
INSTRUCTIONS
In a large bowl, whisk together soy sauce, balsamic vinegar, brown sugar, honey, garlic, Sriracha, ginger powder, pepper and onion powder.
Place wings into a slow cooker. Stir in soy sauce mixture and gently toss to combine. Cover and cook on low heat for 3-4 hours or high heat for 1-2 hours.
In a small bowl, whisk together cornstarch and 2 tablespoons water. Stir in mixture into the slow cooker. Cover and cook on high heat for an additional 10-15 minutes, or until the sauce has thickened.
Preheat oven to broil. Line a baking sheet with foil.
Place wings onto the prepared baking sheet and broil for 2-3 minutes, or until caramelized and slightly charred.
Serve immediately with remaining sauce, garnished with sesame seeds and cilantro, if desired.
You Might Also Like:
Make sure you're following The topslowcookers.com for the latest recipes!
Facebook | Pinterest