This Slow Cooker Crack Chicken is Creamy Cheesy Ranch and Bacon Shredded Chicken. It's perfect on it's own, on a sandwich, in a tortilla or as a dip!
Hey friends. Popping in with another super easy dinner recipe today.
It has the unfortunate name of "Crack" Chicken. I didn't invent the name, so forgive me please.
The internet has deemed the combo of Cheese, Ranch seasoning and bacon as "crack"… Crack Bread, Crack Dip… It's a thing.
Well, I decided that Crack should no longer be an appetizer. Uhh…
Anyhow, this recipe couldn't be easier, honestly. It's just a few ingredients and they transform into a creamy, tasty, shredded chicken that you can use in TONS of ways: Sandwiches, Nachos, Enchiladas (Hello..Crack Enchiladas…how FUN!)…and it's actually a low-carb recipe on it's own, so scoop it onto a bowl of crunchy lettuce and you have yourself Crack Salad. WHUT.
Anyhow, I made it and scooped it on a sandwich, like Crack Chicken Sloppy Joes. My kids loved it.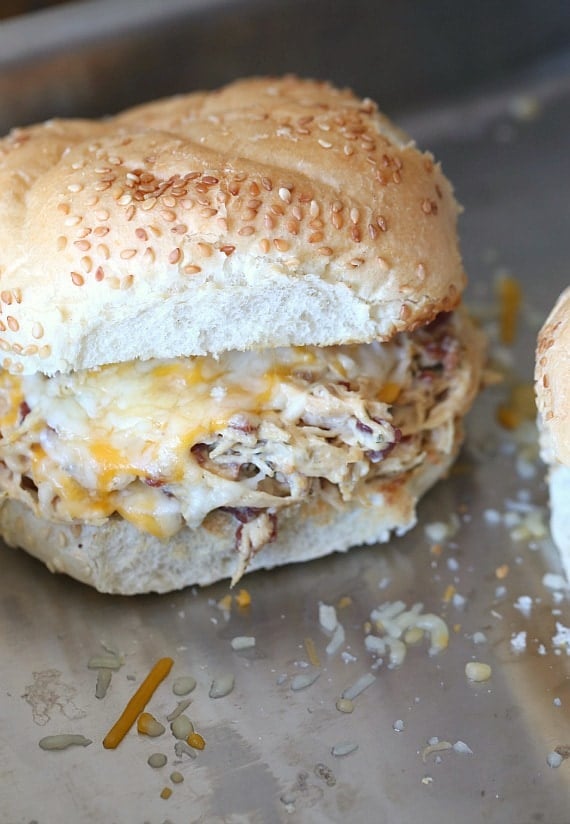 Also, I got a little crazy and added a package of BACON Cream Cheese in place of 2 regular blocks of cream cheese. Solid.
AND Philly happens to make Jalapeno Cream Cheese too, which would make this a little spicy, which would be fantastic!
If you do use a flavored (savory) cream cheese, use only one flavored with one plain…otherwise it's just too much. Trust me on this.
If you don't want to use a flavored cream cheese, it's totally fine. I always make it with plain, but I found the bacon and it was a fun addition!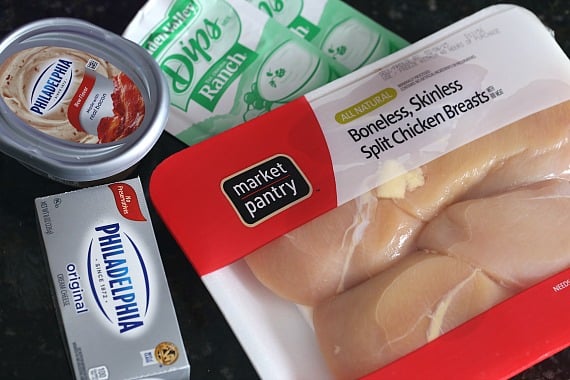 Literally all you do is plop all the ingredients in the slow cooker and let it go.
Just make sure not to overcook it. Use the low setting if you aren't going to be around the house.
When the chicken is cooked, just  mix it all together (the chicken will shred easily) and add in some crispy, crumbled  bacon. I like to add the bacon last so it stays crispy.
When I make sandwiches I top it with a bit more cheddar and place it under the broiler for a beat. Because more cheese…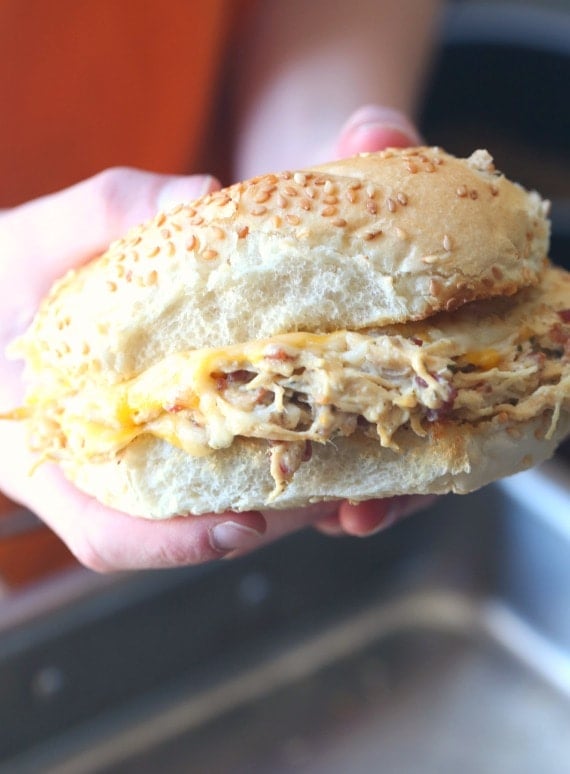 Enjoy!!
You could even save a step if you running low on time and use a Rotisserie chicken in this. Just warm the cream cheese up and mix it all together!
Author: Cookies & Cups.
Serves: serves 6
Ingredients
2 lbs boneless chicken breasts
2 (8 oz) blocks cream cheese
2 (1 oz) packets dry Ranch seasoning
8 oz bacon, cooked crisply and crumbled
Instructions
In a slow cooker combine place chicken, cream cheese, and Ranch seasoning.
Cook on low for 6-8 hours or on high for 4 hours, until chicken shreds easily.
Once chicken shreds stir with a large fork or spoon, so the chicken shreds and all the ingredients combine.
Add in crumbled bacon and stir to incorporate.
Serve warm.
You Might Also Like:
Make sure you're following The topslowcookers.com for the latest recipes!
Facebook | Pinterest