This is the ultimate breakfast worth waking up to! Easily made right in your crockpot. Set it, forget, and devour!
If these potatoes make an appearance on my breakfast table every single morning, waking up will never be an issue.
Seriously. How can you resist breakfast potatoes, with andouille sausage and cheesy goodness?
You just can't. It's impossible.
And you know what? It's just so stinking easy that you can actually make this every morning.
All you have to do is add in your ingredients right into the slow cooker. There's no cooking, no sautéing nor searing. Throw it right in, set it and forget it.
It's a true crockpot meal!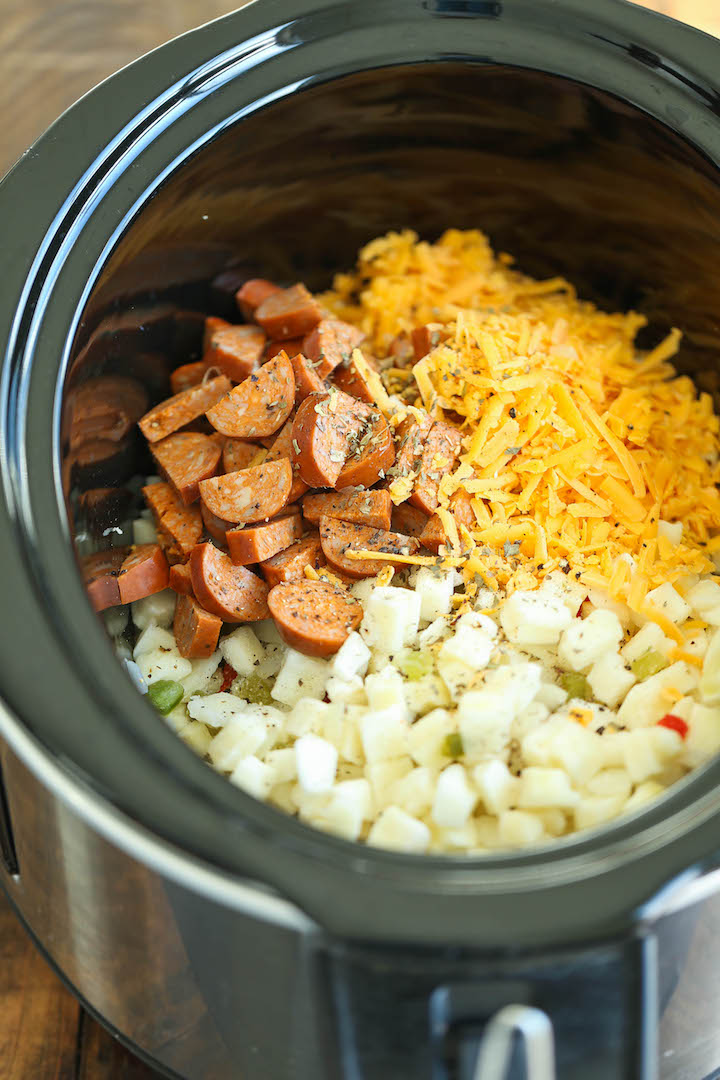 YIELD: 8 SERVINGS
PREP TIME: 15 MINUTES
COOK TIME: 4 HOURS
TOTAL TIME: 4 HOURS 15 MINUTES
INGREDIENTS:
3 russet potatoes, peeled and diced
1 red bell pepper, diced
1 green bell pepper, diced
1 onion, diced
1 (12.8-ounce) package smoked andouille chicken sausage, thinly sliced
1 1/2 cups shredded cheddar cheese
1/2 cup sour cream
1/4 teaspoon dried oregano
1/4 teaspoon dried basil
1 (10.75-ounce) can condensed cream of chicken soup
Kosher salt and freshly ground black pepper, to taste
2 tablespoons chopped fresh parsley leaves
DIRECTIONS:
Place potatoes, bell peppers, onion, chicken sausage, cheese, sour cream, oregano and basil into a 6-qt slow cooker. Stir in chicken soup; season with salt and pepper, to taste.
Cover and cook on low heat for 4-5 hours or high heat for 2-3 hours.
Serve immediately, garnished with parsley, if desired.
You Might Also Like:
Make sure you're following The topslowcookers.com for the latest recipes!
Facebook | Pinterest